In my research into the shape of the earth, I happen across a globetard or two who still claims that Christopher Columbus proved the earth was round by "discovering America".
Most everyone knows of Chris Columbus, the man who "discovered America, and proved the ball earth". Fact is, Chris never stepped foot in North America-ever.
Upon further investigation, Columbus was quite the douchebag.
Columbus the thief


Columbus offered a reward of 10,000 maravedis or about $540 (a sailor's yearly salary) for the first person to discover such land. Though another sailor saw the land in October 1492, Columbus retracted the reward he had previously offered because he claimed he had seen a dim light in the west.

Columbus lied about the native Americans


At first, Columbus
described the native Americans with admiration and pleasantry.
"They … brought us parrots and balls of cotton and spears and many other things… They willingly traded everything they owned… They were well-built, with good bodies and handsome features…. They do not bear arms, and do not know them, for I showed them a sword, they took it by the edge and cut themselves out of ignorance. They have no iron. Their spears are made of cane… . They would make fine servants…. With fifty men we could subjugate them all and make them do whatever we want." Christopher Columbus

After several months in the Caribbean, on January 13, 1493 two Natives were murdered during trading. Columbus, who had otherwise described the Natives as gentle people wrote "(they are) evil and I believe they are from the island of Caribe, and that they eat men." He also described them as "savage cannibals, with dog-like noses that drink the blood of their victims."
Columbus and his men, rapists and murderers


When Columbus left back for Spain
,
he left 39 of his men, who undoubtedly continued raping, pillaging and murdering Americans, because when he returned, they were dead. With over 1,000 soldiers in tow, Americans were hunted with dogs,
Raped, pillaged and murdered by the thousands. Reported close friend of Columbus, Michele de Cuneo wrote the first disturbing account of a relation between himself and a Native female gift given to him by Columbus.
"While I was in the boat I captured a very beautiful Carib woman, whom the said Lord Admiral gave to me, and with whom, having taken her into my cabin, she being naked according to their custom, I conceived desire to take pleasure. I wanted to put my desire into execution but she did not want it and treated me with her finger nails in such a manner that I wished I had never begun. But seeing that (to tell you the end of it all), I took a rope and thrashed her well, for which she raised such unheard of screams that you would not have believed your ears. Finally we came to an agreement in such manner that I can tell you that she seemed to have been brought up in a school of harlots."
Several accounts arose of the atrocities committed by Chris and co. including but not limited to Spaniards testing the sharpness of blades on Native people by cutting them in half, beheading them in contests and throwing Natives into vats of boiling soap. There are also accounts of suckling infants being lifted from their mother's breasts by Spaniards, only to be dashed headfirst into large rocks.
Bartolome De Las Casas, a former slave owner who became Bishop of Chiapas, described these exploits. "Such inhumanities and barbarisms were committed in my sight as no age can parallel," he wrote. "My eyes have seen these acts so foreign to human nature that now I tremble as I write."

More...
Chris Columbus used native Americans as dog food
Chris provided native sex slaves for his men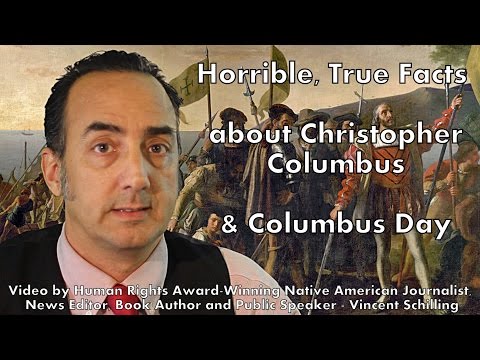 Pseudoscience: noun; a collection of beliefs or practices mistakenly regarded as being based on scientific method.

Scientific method: noun; a method of procedure that has characterized natural science since the 17th century, consisting in systematic observation, measurement, and experiment, and the formulation, testing, and modification of hypotheses.

The highest form of ignorance is when you reject something you don't know anything about.

Wayne Dyer